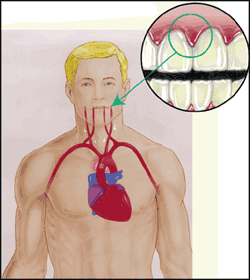 Several studies have shown that periodontal disease is associated with heart disease. While a cause-and-effect relationship has not yet been proven, research has indicated that periodontal disease increases the risk of heart disease.
Scientists believe that inflammation caused by periodontal disease may be responsible for the association.
Periodontal disease can also exacerbate existing heart conditions. Patients at risk for infective endocarditis may require antibiotics prior to dental procedures. Your periodontist and cardiologist will be able to determine if your heart condition requires use of antibiotics prior to dental procedures.
Stroke
Additional studies have pointed to a relationship between periodontal disease and stroke. In one study that looked at the causal relationship of oral infection as a risk factor for stroke, people diagnosed with acute cerebrovascular ischemia were found more likely to have an oral infection when compared to those in the control group.
American Academy of Periodontology – 2017
For more on systemic links to periodontal disease follow the link:
http://www.joponline.org/doi/pdf/10.1902/jop.2009.097001